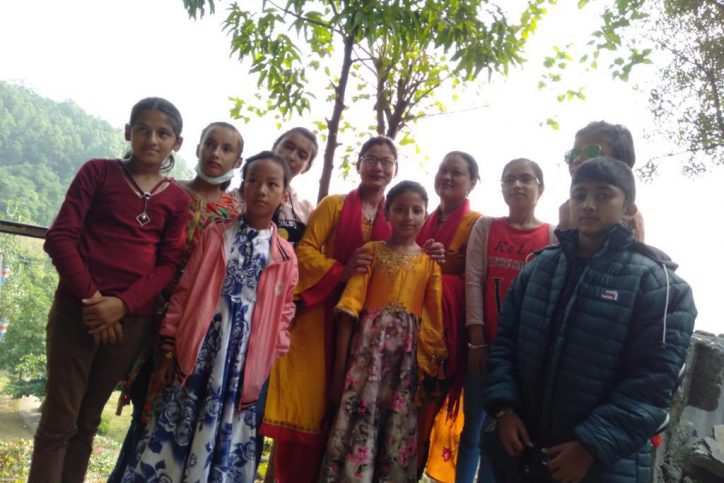 Schulausflug in den Chitwan Nationalpark
finanziert von Direkthilfe Nepal e.V.
I am happy to write a short report about the excursion and glad that you give me this opportunity.

We decided together to go to Chitwan National Park on 23rd October.
We reserved a bus for this trip. Our excursion was only for three days because we wanted to be back in time for theTihar festival. Students of class seven, six and five were chosen for the excursion. All the students were extremely happy that your financial support made this trip possible for them.
Our journey started early in the morning, and after brunch at our hotel near Chitwan National Park we were ready for our jeep safari. An elephant ride was not possible because the elephants were feeding at that time but we were lucky and saw a lot of animals: spotted deer, a rhino and crocodiles. The children were really impressed. Then,we visited a museum where we saw rhino and elephant fossils and other animals skin, too, that was hanging on the wall inside the museum.
Lumbini is one of the most peaceful places I've seen in my life. There are many monasteries built by many different countries. We went boating and visited the Mayadevi temple where many people meditate. Lumbini is one of the UNESCO world heritage sites. All the monasteries seemed very quiet and peaceful. This is the birth place of Gautam Buddha who was the founder of Buddhism. Many people come here on Buddha jayanti (birthday of Gautam Buddha)to commemorate his birthday.
Our last stop was Butwal Hill Park, a very beautiful park in Butwal where many local people go to visit. Here, we saw landscape gardens, a ferris wheel, etc. We enjoyed it a lot and wished there was a garden like this in our village. Then we came back home to celebrate Tihar with its happiness and light.

Amppipal, November 2019

Subash Rana
Alle Downloads
Rundbriefe (6)
Jahresberichte (8)
Zeitungsartikel (5)
Berichte (10)
Alle Downloads
Rundbriefe (6)
Jahresberichte (8)
Zeitungsartikel (5)
Berichte (10)