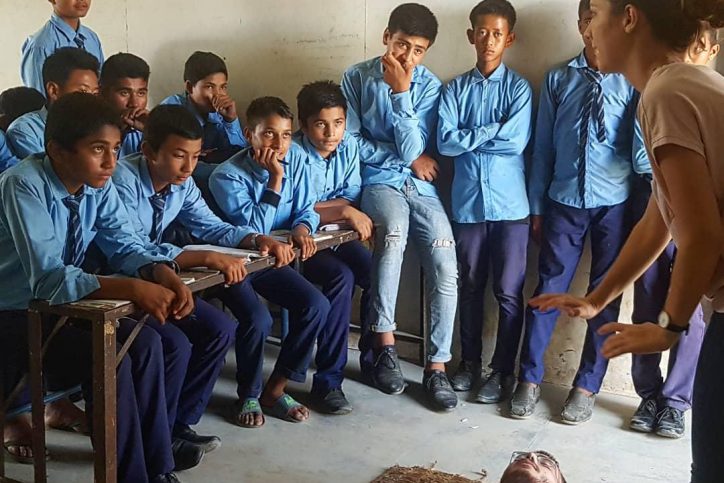 Gesundheitskurse an der Janaata English School
We are five medical students: Sarah, Pauline, Alexandre, Aurélien and Sirine. As future doctors, we decided to run a health prevention project in different schools around different villages in Nepal. One of them, was Amppipal village.
There, we did our interventions in two different schools: a governmental and Janata English School, a non governmental school. The first day was made for building a relationship with the children by introducing ourselves and themselves and making some games. We also started the week by giving them some simple knowledge about the human anatomy in order to fully understand next days' lessons.
The second day was about teaching first aid gestures by making them practice on artificial bodies we brought with us. We left them some simple recap after the lesson. We also offered the teachers of both schools to teach them first aid gestures, but because of the period of exams, we could not find enough time to do it.
The third days' topic was about hygiene. We made a reminder about how to wash our hands correctly and of how to brush our teeth. We also distributed some soap, toothbrushes and toothpate that french students had collected for nepalese children. It seemed to make them very happy. Each lesson was punctuated by songs and games in order to make it funnier and to capt children's attention. We also separated boys and girls to talk about the topic of feminine hygiene and body in order to make them aware of it.
During the fourth day, we talked about the protection of environment, some environmental issues and their bad effects on the human body.
The last day, the children greated us by coming in class with all the plastic bottles and waste they had collected on their way to school, which made us really happy! This day, we also made a quizz to see what they remembered about this week with us and we were surprised to see that they recalled every single lesson. It showed us that we succeeded. We also gave to the school different medicine That we bought in Kathmandou with the way to use them correctly.
Alle Downloads
Rundbriefe (6)
Jahresberichte (8)
Zeitungsartikel (5)
Berichte (9)
Alle Downloads
Rundbriefe (6)
Jahresberichte (8)
Zeitungsartikel (5)
Berichte (9)