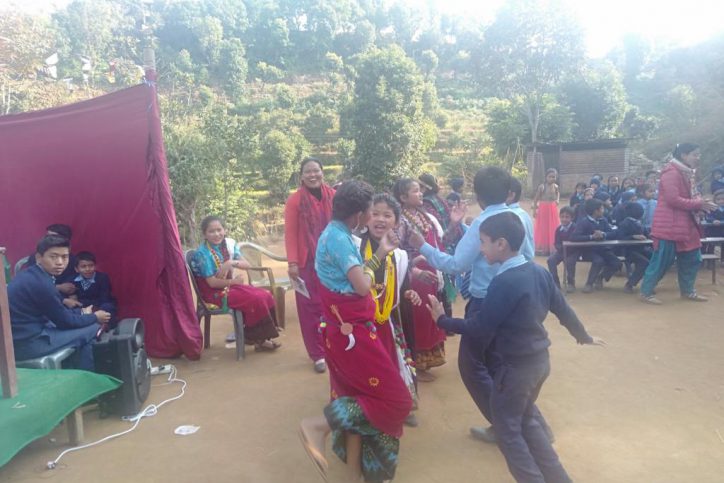 Dancing Competition at JES
It is well known that all human beings can dance and thereby express feelings like sadness and happiness depending on the circumstances. Dance together with the accompanying music are some of the best things to make us feel alive.
With these thoughts in mind we organized a dancing competition for classes 4 to 7 on the 20th December 2019. Both girls and boys took part in this competition. The intention was also to teach different dances and thus preserve an important part of our cultural heritage.
Our students showed a lot of initiative and practiced their dances all on their own and helped the younger students in the early days of the competition.
On the 19th December I prepared the stage with the help of some students and draped a curtain around three of its sides. We also decorated the ceiling with balloons and invited Mr. Damodar Devkota as our main guest of honour.
One of our most courageous students was given the task of being the announcer and the jury was appointed, with me being the chairperson supported by my colleague Ram Mahat and a couple of student teachers who had come for some teaching practice.
So everything was set for our competition in which the students did not only perform dances but also sang different types of songs. They showed a lot of talent and courage. The jury judged their performance along criteria such as gestures, steps, start and finish, etc. 20 points were the maximum number that could be reached.
On this basis, BimpleGurung was awarded first prize, having achieved 16 points. Next came Sandhya Ashikari with 12 points. SmritiThapa and Bibasha shared the third place with 10 points each.
We will remember this day for a long time!
Subash Rana Magar
Alle Downloads
Rundbriefe (6)
Jahresberichte (8)
Zeitungsartikel (5)
Berichte (11)
Alle Downloads
Rundbriefe (6)
Jahresberichte (8)
Zeitungsartikel (5)
Berichte (11)